Annual List Features Trailblazing Solution Providers Transforming Business with Emerging Technologies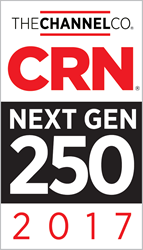 Aegis Technology Partners, an IT service Provider, announced today that CRN®, a brand of The Channel Company, has named Aegis to its 2017 Next-Gen 250 list. The annual list recognizes standout IT solution providers who have successfully transformed their businesses to meet the demands of emerging technologies such as cloud computing, IoT, virtualization, mobility, business analytics and business intelligence. These solution providers, all in business for fewer than 20 years, have adapted to an evolving marketplace with a notable penchant for bringing key technologies to their clients before they become mainstream.
"We're honored to be among this list of solution providers", said Jay Parisi, Partner at Aegis. "The continued recognition we get can only be attributed to our clients. Without their ongoing support we wouldn't stand out amongst our peers".
"This group of solution providers is leading the way when it comes to emerging technologies, bravely stepping into the uncharted territory of next-generation IT solutions ahead of their peers," said Robert Faletra, CEO of The Channel Company. "Our 2017 Next-Gen 250 list is comprised of relatively new companies as well as established ones, all sharing the common thread of successful, trailblazing solutions designed to meet an unprecedented set of customer needs. We congratulate each team on its vision and contribution to the overall advancement of the IT channel."
A sampling of the Next-Gen 250 list will be featured in the December issue of CRN. The complete list will be available online at http://www.crn.com/nextgen250.
About Aegis Technology Partners
Aegis Technology Partners specializes in a wide range of services, including tailored IT services and solutions for small and medium businesses and their owners in Norwalk and the Fairfield County area. We are committed to providing each and every one of our clients with high quality service and support. Our unique IT team is incredibly friendly and can help you every step of the way in growing your business. We expertly combine our services in order to provide you with customized help and support so you only get what you need and what you want, including Network Support, Managed Print Services, Cloud Computing, Data Backup and Recovery and Voice over IP Phone systems. Our innovative approach starts with a thorough investigation of what your company needs to succeed so that we can ensure a perfect fit with you and our services.
About the Channel Company
The Channel Company enables breakthrough IT channel performance with our dominant media, engaging events, expert consulting and education, and innovative marketing services and platforms. As the channel catalyst, we connect and empower technology suppliers, solution providers and end users. Backed by more than 30 years of unequaled channel experience, we draw from our deep knowledge to envision innovative new solutions for ever-evolving challenges in the technology marketplace. http://www.thechannelco.com